What To Expect with Volkswagen Brake Pad Replacement
Brake pad service isn't difficult for the trained technician, although it can be a bit tricky for the do-it-yourself mechanic. The vehicle is raised on the shop's lift, or, traditionally may have been lifted by a jack and placed on supports, and the wheels are removed. The old brake pads require specialty tools to remove, typically a socket that isn't part of a regular socket set. Once the old brake pads are taken off, the new ones have to go in the metal frames and back in place on the wheel. It can be confusing for the layman, as there are a few moving metal parts that have to be properly arranged to get the brake set in place. There is also a matter of front brake pad replacement being different from rear brake pad replacement because older vehicles use disc brakes in the front and drum brakes on the rear wheels.
Why Cars Need Brake System Service
Brake pads are designed to wear down over time as they are used to apply pressure to the steel brake rotors or drum brakes, in some instances. With such moving parts grinding against each other, metal on metal wouldn't work, so brake pads have to be made of a softer material. They continue to provide stopping power regardless of how far the brake pads are worn as long as the brake fluid levels are maintained full, but at some point, the pads will wear completely down and provide absolutely no stopping ability. They need to be replaced before that happens.
What Can Happen if Brake Pads Aren't Properly Replaced
Traditionally, brake pads held a thin wire in them which would scrape against the rotor when the brake wore down to a certain level. They still tend to have that feature, which makes a horrible squealing noise when the brakes are past their prime, but there's also a dashboard indicator light to allow the driver to know it's time to have the brake pads replaced before the car becomes unsafe to drive. If it gets worse, the car will be difficult to handle when braking, and the bad brake pad might cause further damage to the wheel or axle, causing far more expensive repairs.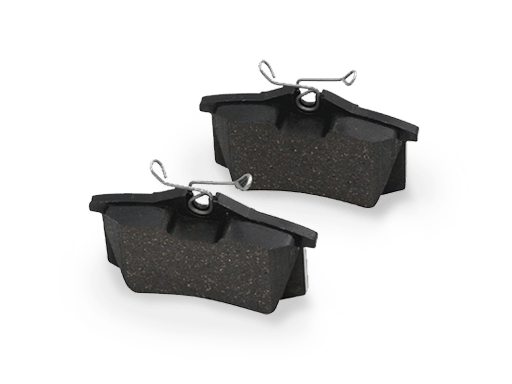 Where to Go for OEM Volkswagen Brake Pads in Woodside
Queensboro Volkswagen is the place to go for proper dealership brakes and maintenance work in Woodside, NJ, and the nearby localities of Astoria, Brooklyn, Queens, Manhattan, and Flushing. Our technicians are properly trained and certified to know what your car needs and our fully equipped shop is capable of any repair service that comes up.
Schedule Service
Queensboro Volkswagen Service Department Amenities
Complimentary Wi-Fi
Courtesy Loaners
Courtesy Transportation Shuttle
Complimentary Beverage & Coffee
Complimentary Snacks
Vending Machines
Certified Technicians
Comfortable Waiting Area
State-of-the-Art Facility
Saturday Service Hours
Flat Screen TVs
---